Give Your Child The Birthday Party That Packs A Punch!
Our team at Ronin Martial Arts is proud to host your child's next birthday and make it the best one yet! We'll provide a fun, exciting experience for your child and keep things totally stress-free for you, the parent! Want a special theme? We'll take care of it. Hoping to get the perfect picture? Our team will supervise the kids so that you can sit back, relax, and enjoy yourself.
To reserve your child's birthday weekend, just fill out the short form below!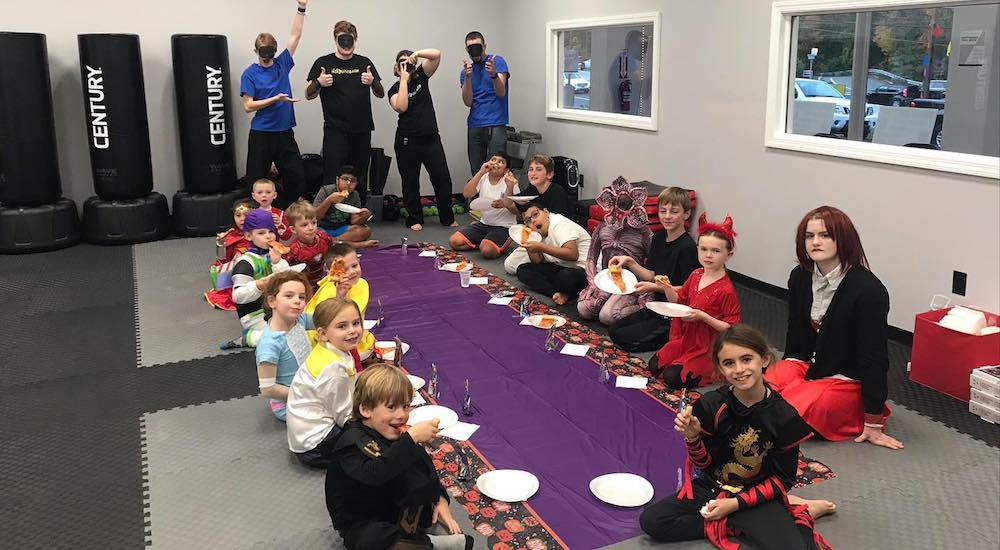 What Do Our Awesome Birthday Parties Offer?
From set up to clean up, Ronin Martial Arts is committed to providing an exceptional birthday experience. At Ronin Martial Arts, we provide:
Two Fun Filled Hours of Activity
Decorations
Games and obstacle challenges
Customized Party Invites
Set up/clean up
Food, Drinks, and Paper Supplies
Customizable Goody Bags
Thank You Cards
We'll also provide professional supervision throughout the party, plan awesome activities and fun games that all of your child's friends can enjoy, and ensure that everyone has an amazing and memorable experience at your child's birthday party. All you need to bring are the birthday desserts and the guests. We take care of the rest for you! With our convenient location in Morris Plains, we're proud to offer high-energy birthday parties for kids across the Morris Plains and Parsippany areas!
We offer several different Birthday Party packages!:
Ninja Birthday Package – $289.00
Our classic Ninja Birthday Party Package that started it all! An action packed ninja fun where 15 guests will learn the basics of Martial Arts through exciting obstacle challenges and fun games! Sit back and relax as we make sure the Birthday Guest is the center of attention of a party they will never forget!
Nerf Birthday Package - $339.00
This package includes nonstop Nerf action as our team facilitates fun and fair play through multiple types of games. Our room and equipment are safe enough to handle the most exciting Nerf action. Guests just need to bring their favorite Nerf blaster and we take care of the soft darts and safety glasses!
Custom Themed Birthday Package - $319.00
We take your theme of choice and customize the entire birthday experience from start to finish. We also incorporate all themed items that you bring to the party, including themed plates, toys, piñatas, etc.
Our team at Ronin Martial Arts will help you through every step of the process! We want your child to have a fun birthday party that they'll remember for years to come, plus get the safe and educational environment that parents love. Giving your child an awesome birthday is easier than ever!
Book Your Child's Next Birthday at Ronin Martial Arts Today!
Don't wait! Make sure your child's birthday weekend is theirs to celebrate by contacting us immediately. Our booking dates fill up quickly, and the earlier you get started on planning your child's exciting birthday party, the better! Our team will help you throughout the process, so you don't have to worry about getting bogged down in the stress of party planning... just fill out the short form below to give your child Morris Plains' and Parsippany's best birthday party experience!